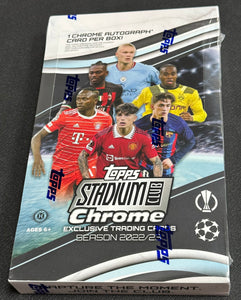 2022-23 Topps Stadium Club Chrome UEFA Club Competitions Soccer Hobby Box
Total Qty Avalaible : 1
---
---
Configuration: 20 packs per box. 6 cards per pack.
PRODUCT HIGHLIGHTS
- Collect jaw-dropping imagery of the biggest stars, legends and rookies of the UEFA Champions League & UEFA Europa League on Topps' iconic Chrome technology!
- Get even closer to your favorite footballers with the all new Behind the Lens Autos, equipped with exclusive dark room and photo negative parallels!
- Enjoy a Stadium Club classic in Cosigners Autographs, featuring iconic pairings for the first time in the product's history.
- Beam Team makes its return to the inserts, accompanied by Championship Contributions and Glimpses of Gold, as well as brand-new inserts Goal Force and Legends of Europe.
- Also keep an eye out for rare Members Only image variations of the game's top rookies!
Box Break:
- 1 Chrome Autograph
- 4 Refractor Parallels
- 4 Colored Parallels/Image Variations