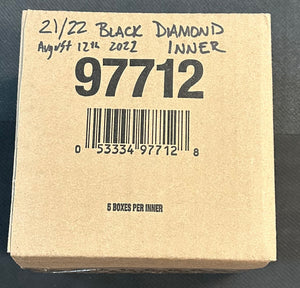 2021-22 Upper Deck Black Diamond Hockey Hobby 5-Box Case
Total Qty Avalaible : 1
---
---
Each Box contains One Autograph or Diamond Relic Card, One Base Set or Base Set - Pure Black Parallel (#'d to 50) Card, One Exquisite Card, and Three Regular Insert, Tech and/or Non-Auto/Diamond Relic Memorabilia Cards!
Look for Rookie Cards of Trevor Zegras and Tanner Jeannot!
Black Diamond is the first high-end product of the 2021-22 hockey season and is the first product of the year to feature an extensive selection of premium autograph and memorabilia cards for the 2021-22 rookie class!
Look for coveted Diamond Relic Rookies cards! Each card in this rookie set boasts one to four diamond relics. The more accomplished the rookie, the more diamond relics the card will feature. Additionally, every card in the set and its three parallels are #'d to 99 or less, including the highly-sought after 1-of-1 Pure Black parallel cards!
Keep an eye out for Diamond Relic Rookies Retro - Quad Diamond cards (#'d to 25) featuring top 2021 draftees and the 2015-16 Retro Rookie Diamond design.
You can find additional diamond relic cards featuring rookies, as well as veterans and retired legends, via the following inserts and Base Set parallels:
- Diamond Legends/Stars/Futures: All of the regular cards are #'d to 249. Keep an eye out for a slew of low-numbered autograph & autograph + premium memorabilia parallels, highlighted by the Premium Relic Auto, Purple Diamond Relic Auto (#'d to 10) and Pure Black Diamond Relic Auto (#'d 1-of-1) parallels.
- Gemography: This longtime classic Black Diamond autograph insert, reborn as a Diamond Relic insert in 2019-20, boasts a mix of retired legends, current stars and rookies. Collect the regular set as well as the Ruby, Emerald and Pure Black parallels - all #'d to 25 or less!
- NEW! Band of Color: Each card in this new and colorful set features six diamond relics, each a different color: red, orange, yellow, green, blue and purple. The vets and legends are #'d to 21 while the rookies are #'d to 22.
- Base Set: Look for rare veteran and retired legend Diamond Relic (#'d to 5) and Pure Black Diamond Relic (#'d 1-of-1) Base Set parallel cards, each featuring 1-4 diamond relics.