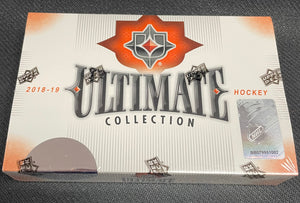 2018-19 Upper Deck Ultimate Collection Hockey Hobby Box
Total Qty Avalaible : 4
$37995

$379.95

Save $110.05
---
---
Each Box contains One Rookie Auto or Rookie Auto Material Variation Card, Two additional Autographs or Memorabilia Cards, and One Base, Ultimate Introductions, or Parallel Card
The 50 card Base Set includes the games' biggest superstars, all numbered to 149.
Look for Rookie Cards of Elias Pettersson, Carter Hart, Drake Batherson, and Brady Tkachuk!
Look for Base Set Parallels including:
- Onyx Black Parallel (#'d to 10)
- Onyx Black Auto Parallel (#'d 1-of-1)
Get your hands on the Ultimate Rookie Autograph cards with two tiers numbered to 299 or 99!
Find Ultimate Rookie Patch Autos, numbered as low as 49!
HOBBY EXCLUSIVE! Ultimate Rookies Auto Shield Variations, 1-of-1 Rookie cards containing a NHL Shield Patch.
They're back! Look for Signature Masterpieces autograph cards falling 1:8 packs!
Ultimate Introductions returns, including 4 tiers of Rookies!
Collect Rookie Cards of Elias Pettersson, Rasmus Dahlin, Brady Tkachuk, Jesperi Kotkaniemi, Miro Heiskanen, Andrei Svechnikov, Casey Mittelstadt, Jordan Greenway, Zach Aston-Reese, Eeli Tolvanen, Ryan Donato, Dennis Cholowski, Robert Thomas, and Carter Hart!
NEW! Find Ultimate Quad Materials, featuring 4 pieces of memorabilia from 4 players (#'d as low as 25).
NEW! Pull the Ultimate Dual Material Autos, featuring 2 patch swatches and 2 autographs.
NEW! Collect the all-new Ultimate Access jersey cards.

PRODUCT BREAKDOWN:
Rookie Autograph, Memorabilia Cards & Notable Inserts:
- Ultimate Introductions Onyx Black Auto Parallel - #'d to 10
- Ultimate Introductions Gold Auto Parallel - 1:8
- Ultimate Introductions Showcase Onyx Black Auto Parallel - #'d to 5
- Ultimate Introductions Showcase Gold Auto Parallel - 1:184
- Ultimate Rookies Autographs Tier 1 - #'d to 299
- Ultimate Rookies Autographs Tier 2 - #'d to 99
- Ultimate Rookies Jersey - #'d to 399
- Ultimate Rookies Auto Patch Tier 1 Parallel - #'d to 99
- Ultimate Rookies Auto Patch Tier 2 Parallel - #'d to 49
- Hobby Exclusive: Ultimate Rookies Auto Shield Variation - #'d to 1
- Retro Rookies Auto - #'d to 175
- Retro Rookies Auto Patch - #'d to 49
- Debut Threads Patch Auto - #'d to 99
Autograph & Memorabilia Inserts:
- 1997 Legends Auto - 1:28
- 1997 Legends HOF Auto - 1:120
- Signature Masterpieces - 1:8
- Signature Laureates - Varied #ing
- Signature Material Laureates - Varied #ing
- Ultimate Materials - Varied #ing
- Ultimate Materials Auto - Varied #ing
- Ultimate Quad Materials Tier 1 - #'d to 99
- Ultimate Quad Materials Tier 2 - #'d to 25
- Ultimate Dual Materials Auto - Varied #ing
- Ultimate Access Auto - Varied #ing
- Ultimate Access Premium Materials Copper Parallel Tier 1 - #'d to 10
- Ultimate Access Premium Materials Copper Parallel Tier 2 - #'d to 5
- Ultimate Access Premium Materials Copper Auto Parallel - Varied #ing
- Ultimate Icons Auto - Varied #ing
- Ultimate Icons Premium Materials Copper Parallel Tier 1 - #'d to 10
- Ultimate Icons Premium Materials Copper Parallel Tier 2 - #'d to 5
- Ultimate Icons Premium Materials Copper Auto Parallel - Varied #ing
- Ultimate Access Premium Materials Gold Parallel Tier 1 - #'d to 3
- Ultimate Access Premium Materials Gold Parallel Tier 2 - #'d to 3
- Ultimate Access Premium Materials Gold Auto Parallel - #'d to 6
- Ultimate Icons Premium Materials Gold Parallel Tier 1 - #'d to 3
- Ultimate Icons Premium Materials Gold Parallel Tier 2 - #'d to 3
- Ultimate Icons Premium Materials Gold Auto Parallel - #'d to 6
- Shield Patch Variant Base Auto - #'d to 1
- Shield Patch Variant Base Non Auto - #'d to 1
- All Star Skills Shield Patch Auto - #'d to 1
- All Star Skills Shield Patch Non Auto - #'d to 1
- Rookie Tandem Shield Patch - #'d to 2
- All Star Tandem Shield Patch - #'d to 1
- Base Set Autograph // - Varied #ing
- Base Set Onyx Black Auto // - #'d 1-of-1
More Great Hits:
- Ultimate Introductions Tier 1 - 1:3
- Ultimate Introductions Tier 2 - 1:6
- Ultimate Introductions Tier 3 - 1:9
- Ultimate Introductions Tier 4 - 1:12
- Ultimate Introductions Onyx Black Parallel - #'d to 10
- Ultimate Introductions Royal Red Parallel - #'d to 6
- Ultimate Introductions Showcase - 1:80
- Ultimate Access Tier 1 - 1:8
- Ultimate Access Tier 2 - 1:64
- Ultimate Icons Tier 1 - 1:12
- Ultimate Icons Tier 2 - 1:36
- Base Set Onyx Black Parallel - #'d to 10
- Base Set - #'d to 149

4 Cards Per Box