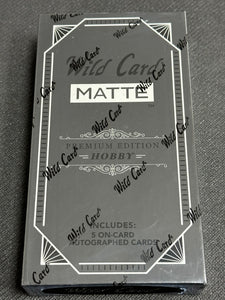 2023 Wild Card Matte Football Premium Edition Hobby Box
Total Qty Avalaible : 5
---
---
You will receive either a Black, White Box, or Chase Box pulled and shipped/bought at random.
Configuration: 1 pack per box. 5 cards per pack.
PRODUCT HIGHLIGHTS
- All On-Card Autographs and every card is numbered to 25 or less!
- Guaranteed 1 C.J.Stroud and Bijan Robinson On-Card Auto in Every Case
- Look for C.J. Stroud and Bijan Robinson in X-PlodeTM, Rookie HeatTM , Weekend WarriorTM, ThumbagraphTM , Smoking GunsTM (C.J. Stroud), Base Card
- On the back of every card you will find the foiled On-Card Auto icon. Wild Card® guarantees the autograph to be Authentic.
- Look for rare Red and Blue Chase Boxes!
Box Break:
- 5 Autographs